In June 2014, 'low-code went mainstream. Forrester researchers formally announced the arrival of 'low-code platforms in their paper 'New Development Platforms Emerge For Customer-Facing Applications'. While the idea of visual development and configuration instead of hand-coding existed since long before, Forrester's report marked the time when global enterprises began taking low-code as a serious alternative to their current methods. And it has grown significantly since. 
Gartner predicts that by 2024, over 75% of large enterprises will use low-code development tools, and over 65% of all application development will be done with low-code tools and methods. Confirming these hard stats, low-code proves to be worthwhile because: 
It can make development up to

10x faster

, as Forrester's John Rymer argues.

It can help your application deployments achieve first-time-right. 

It can enable generalists to perform specialized coding tasks, optimizing investment in people.

It can improve your governance initiatives and security posture, and prevent shadow IT, through a unified platform.
The real question about adopting a low-code platform is: When is a low-code platform right for your business?
In order to help you gauge if low-code is right for you, in the present, we've identified specific situations in which enterprises see great benefits from low-code, across three dimensions — your business landscape, preparedness for low-code, and technology position.
Business landscape
When you need to ease your digital transformation journey
Enterprises on a digital transformation journey realize soon enough that their business landscape is evolving faster than their transformation initiative is moving. They need greater speed in their application modernization endeavor without sinking more investments in additional resources/tools. Low-code can enable this.
When you need to close the business-IT gap 
The visual approach of low-code simplifies the application development process — it abstracts complexities of integration and configuration, somewhat reducing the intimidating aspects of hand-coding. This allows business users and professional developers to collaborate more meaningfully. With visual prototyping, business users can play with the feature, facilitating earlier validation, reducing rework and cost overruns significantly.
When you need to deliver fast with limited resources
Be it market pressures, compliance needs, or competition, businesses from time to time come under pressure to deliver fast. And hardly ever has an IT leader said, "we have all the people and budgets we need to accelerate". More often than not, IT teams are left to find innovative, yet cost-effective ways to deliver fast. And low-code is exactly that.
Low-code platforms enable enterprises to use their existing teams to perform complex development tasks with minimal upskilling. With visual prototyping, they provide a common ground for business users and developers to collaborate, without yet involving IT or DevOps. They automate coding, saving time and energy for engineers, which they can then leverage to innovate at scale. It ensures that you have standardized and consistent code, in spite of different developers working on it, eliminating shadow IT and facilitating better governance.
Preparedness for low-code
When you know exactly what you want from your low-code platform
As you identify and explore low-code alternatives to traditional development, you will develop organizational know-how about how it works, how it fits into your existing systems, etc. In such a situation, you might be in a great position to identify the perfect use-cases for adopting low-code — say, while modernizing legacy applications. 
In such a case, where you're already up the learning curve, low-code can generate incremental benefits for you.
When you have identified the right people who will maximize the benefits using low-code tools
We've seen that early adopters and power users of low-code tools tend to be technically-inclined business users. For example, a business analyst who has a clear understanding of data organization / logical flows and a strong product point of view can leverage low-code for configuring and setting up the reporting software themselves. Or generalist developers who need to perform specialist roles as part of their job — say a backend developer needing to do the UI design. 
When you have identified the specific person who can leverage low-code because it fills a specific gap, it can work wonders.
Technology position
When your app requirements are varied 
Enterprise applications can sometimes be labyrinths of layers, held together by loosely defined integrations. When different teams within an enterprise come to the developer with different business requirements, a working reconciliation of them all can be daunting. With low-code, you can build custom apps specific to the requirements of each business team, without wrecking the foundations of your application. 
When you have high expectations of tech innovation 
In a world where every business is a tech business, every enterprise faces pressure to innovate. This can be even more demanding in a tech-heavy industry.. Low-code helps developers build features faster — with the visual interface — and also gets feedback quicker from business users. 
When you already have IT support for application integration 
Existing development teams often have a conceptual understanding of the application architecture and underlying infrastructure, which enables them to integrate and deploy their code. Adding a low-code platform to accelerate development brings an additional layer, which also needs to be integrated. On the other hand, enterprises might still need IT support to integrate the code written using the low-code tool into the larger application codebase. Often, enterprises shy away from adopting new tools for fear of this integration.
If you have an existing IT support team that can facilitate a low-code platform's integration into the application landscape, you are in a better position to adopt low-code and reap its benefits.
Low-code as a practice and low-code platforms as tools can help application development teams across a wide range of functions. Whether you're just considering modernizing your legacy systems or are at the cutting edge of tech innovation, low-code can help accelerate your digital transformation journey.
Digital transformation (DX). Everyone is talking about it and wants to get on the bandwagon. Take for example Razer's story. As far as transforming a modern workplace and collaboration goes, it's considered a phenomenon. By supporting teamwork, rapid communications, and real-time collaboration using intelligent technology solutions, Razer has gained a competitive edge in the multibillion-dollar gaming industry.
You can observe a similar story at Virgin Atlantic, where they aim to develop apps quickly and easily to empower employees with tools and information to help field workers get a better view of customers and deliver better service.
Digital transformation comes in all shapes and sizes. It is all-encompassing and can have different connotations for different stakeholders. How do you interpret it? Does digital transformation for you mean the same for your peers? A CIO may translate it as improving operational efficiency, while it may mean augmenting customer engagement for a CMO.
What does digital transformation actually mean for you and your enterprise?
Is it about modernizing legacy systems? Individually, gradually, simultaneously, enterprise-wide?
Is it about shifting from traditional software development to full-stack development with an API-driven app approach?
Is it about creating bandwidth for continuous innovation and advancing time-to-market?
While every enterprise wants to modernize and transform, not everyone is successful in digital transformation. What it requires is commitment and involvement, enterprise-wide.
According to the CIO's 2019 State of the CIO Survey, "88% of CIOs say that they are more involved in leading digital transformation initiatives compared to their business counterparts." In the '2018-2019 State of Digital Transformation Report' by Altimeter, "CIOs are cited as the most typical official owners or sponsors of transformation initiatives."
Executive Ownership of Digital Transformation 
As business modernization and transformation continues to mature, CIOs are required to have a stronger presence in revenue-generating initiatives and in areas they have not delved before. What's your level of involvement? Are you skin-deep or knee-deep in digital transformation? When revenue and ROI become the name of the game and as you wade into uncharted waters, where do you begin, what's your first step?
The Crucial Kick-Off In Your Digital Transformation Journey 
Make the first step count!
In your digital transformation journey, the best starting point would be the core. And the core of digital transformation is IT.
As 'application organizations' are constantly evolving to adapt to the hybrid world and the digital workforce, IT is expected to not only modernize technology but also deliver business value, augment user experience (UX) and achieve core innovation.
Enterprise application development is emerging as an integral requisite to achieving digital transformation success. Rapid Application Development platforms are gaining sway by empowering IT, providing the bandwidth to focus on core innovation, advancing time-to-market strategies, and helping to achieve competitive differentiation.
How can you drive digital transformation ROI using enterprise application development and low-code platforms? Continue reading our next post to find out more.
Being in the market of application development for almost a decade, my team at WaveMaker has been through some of the big shifts in the application market. In my opinion, one such shift is the magnitude by which IT budgets have been slashed over the years. Although this could be due to many reasons, what is important is that this budget cut has caused a demand growth for low-code platforms, whose promise is to churn out applications faster and in an economical manner. Besides WaveMaker, companies like Outsystems, Mendix, Appian started catering to this market, but I believe there is still more value to be created and open-low-code platforms will be driving it.
Emergence of Open Low-code
A major portion of IT budgets goes into the development and maintenance of core enterprise applications. This includes LoB apps and apps with emerging cloud-native architecture which is built by mainstream developers and not business users. What I have seen is that for developers, code control and innovation are very important. We thought for low-code to be more valuable to developers, it should have an impact on how mainstream developers build and maintain applications. Open low-code platforms do just that.
Let's understand how open low-code addresses both the productivity needs and key concerns of an enterprise as we have seen.
Need for Open Low-code
Open low-code platforms, to a large extent, aim to address the pain points of developers trying to build mainstream enterprise applications. It can fulfill both the productivity needs of the developers as well as their key concerns around modern best practices for application development, integration, and delivery. With such platforms, businesses can be sure of better adoption amongst developers and thereby ensure a faster release cycle of quality applications without straining the IT budget.
"Open standards for information technology" seem to be a new term that everyone is talking about recently. But, as a matter of fact, standards have been here for a long time. The socket and the plug that you use for charging your electronic devices, USB cables that fit perfectly into the given slots, or the WiFi signals that your devices connect to - all of these adhere to open standards.
As opposed to this, there are proprietary standards. As the name suggests, proprietary standards are the ones that are "closed" - those which are compatible only with a few specific configurations. The addition of features within the system itself is a cakewalk. But, when it comes to the integration of technologies belonging to a different system, it is either a tedious task or not possible at all.
This turned the attention of business owners to open standard-based technology architecture. The use of open standards fosters innovations resulting in disruptive technologies engulfing the market. At the end, the end-user wins by not getting locked into one large company's way of conducting business.
Open Source and Open Standard
In general, open-source refers to any software program that has an editable source code, available for users and developers to modify it as per their requirements. Open-source software is usually developed as a public collaboration and can be used by anyone freely. On the other hand, open standard software is defined as software that follows the guidelines laid down to keep technologies "open". These guidelines allow free sharing of all data types with perfect fidelity. Open standards help avoid vendor lock-in and thereby, enhance interoperability.
Concept-wise, open-source and open standards groups are alike in more ways than they are different. The goal of both groups is to create an immense amount of shared value that can be used by anyone freely. Both open source and open standards advocates have similar ideas about governing an open project, but their approaches to it are different.
Application development can gain a lot more by collaborating both open source and open standard software. In the technical sphere, open-source projects based on open standards stand better chances to receive access and support on governance matters and other industry acceptable documentation. It can open funding opportunities that can impact the enterprise's goals.
Now, let's look at some business benefits of adopting open standards.
Enhanced Integration
In the present scenario, for enterprise applications to offer a complete service, it needs to have several third-party integrations. Let's consider a taxi booking application that people access from their smartphones. The app needs to track the phone's GPS to detect its location and then give this information to the driver so that it can reach the user at the exact location. This functionality of navigation is added to the application by integrating a mapping service - say, Google maps. For successful integration of separate applications, the software and the data must be made to work together without any miscommunication. This is possible only with open standards which enable different software systems to share data easily with speed and reliability.
Avoid Vendor Lock-in
So, now when one application needs to work with diverse systems having services distributed across multiple domains, there is a need to have a connecting link for the swift transfer of data. Application Programming Interfaces (APIs) make this connecting link possible. Here is where interoperability steps in. If your business application adheres to open standards, there are standard-based APIs that one can use to connect with any system. But, if your application follows proprietary standards, the choices are limited, and one needs to develop custom APIs for the same. This leads to vendor lock-in. You are stuck with using a system owned by a specific vendor. Due to this, the shortcomings of those systems affect the efficiency of your application as well. Instead, building an application with open standards, you are not tied down by any vendor or its shortcomings.
Save Time
A business application generally needs to be so designed that it is compatible across various systems and varied screens. If the application follows closed standards, this is only possible when each compatibility is individually addressed. One may need to design extensive proprietary interfaces for enabling compatibility with each system thus, limiting interoperability. On the other hand, open standards will pave the way for a fully interoperable business application that has a simple plug-and-play set up for all systems across all devices. Thus, you save a lot of man-hours spent on developing custom interfaces or offering extensive integration services to customers.
Better protection for files
It is extremely difficult to convert the data if an application, which is becoming obsolete, supports proprietary files. With open standards, however, file types and data are protected against applications becoming obsolete. If a file type follows open standards, the new application can easily use the data or convert it.
Easy to port
It is easier to port one application across multiple platforms if the implementation follows standardized rules and guidelines. Further, it requires less training to develop the application on different platforms as well. In contrast, proprietary applications typically require more training and knowledge as information is not publicly available about them.
Added benefits
By saving man-hours, you reduce the time to market. Again, when your application is up and ready in a short time span and integration service needs are non-existent, you also save a lot on development costs. With low development costs and no vendor lock-in, the total cost of ownership of the application is low as well.
Which one to choose?
In the present-day world, there are new technologies emerging at a very fast pace. Taking this into consideration, it would be preferable to have an application that can readily catch up with all the advancements in technology. Looking from a business point of view, open standards are a necessity while open source is a choice. By choosing software frameworks that are open standards-compliant, the resulting business applications will adhere to the accepted levels of security and modes of data interchange and exchange. It also improves the accessibility and quality of your business application. Whereas, you may choose an open-source or proprietary software for building your applications purely based on your needs and preferences.
You must have heard this multiple times by now. Artificial Intelligence is not coming, it's here. Cars are already driving themselves. Warehouses are working by themselves. Many of the support calls are now answered by bots. Virtual assistants are helping us in perhaps everything from finding the nearest chemist store to the best restaurants.
Enterprises are typically late in adopting new technologies. But with the spread of AI, they need to rethink the way they work. They need to think of the  AI-first approach.
Major AI players like IBM Watson, Google API, AWS, Microsoft are all working towards providing usable intelligence to enterprises so that real-world problems can be solved easily. Common services they offer include intelligent search, a conversation that can be trained, speech to text and text to speech, and other than core ML libraries.
Let's take an example. Organizations may need a Chatbot that can create PTO / vacation days for employees.
This kind of conversation can be configured in IBM Watson Conversation as below.
For more information on creating the dialog, please refer to this.
This is all based on UI-based configuration. Other than that, you can also train your bot for intents. For example,  I may ask to apply for vacation in different ways.
Now the conversion is all prepared in IBM Bluemix.
To experience this conversation in applications is important. But, building a quality application with these services is still challenging. Delays due to the unavailability of resources or skills should not stop you from realizing AI benefits.
Low-code application delivery tools facilitate the ease of integration of these AI services. WaveMaker (a low-code platform) provides out-of-the-box components (aka "prefabs")  to have a Chatbot that can provide the front end for Watson Conversations.
Developers simply need to drag and drop the Watson Chatbot prefab and configure the conversation workspace and its related authentication.
Other services like IBM Watson Discovery-based search, speech to text, text to speech, and others can also be consumed with reusable prefabs and easy consumption of REST APIs.
If you need any help with building your AI applications, please email me at anurag.parashar@wavemaker.com.
As a user, what is the first thing that comes to mind when you hear the words: enterprise software? Perhaps something difficult to use and gray in color? Maybe a dinosaur-like UI that gets in the way of your productivity? But how did this come to be? Let us rewind the clock to a few decades ago to understand how enterprise software was purchased and used.
Enterprise applications were designed to meet the complex, scalable and mission-critical needs of an organization. Purchase decisions were (still are?) made on spreadsheets and it was difficult to quantify the user experience. From the user's perspective, there was a wide gulf between enterprise and consumer apps - with a different set of expectations from each. It was also a time when software purchase was a one-time activity or riddled multi-year maintenance contracts. Due to the high switching costs, poor user experience was a barrier that was not high enough. Also, organization culture leaned towards a "just get it done" attitude especially when it came to internal tools, resulting in user experiences that weren't well designed or tested.
The times, they are a-changin'
While the hangover of yesteryear remains, the state of enterprise apps UX is changing rapidly. Consumerization of IT and user interfaces from the consumer world are setting the bar now for enterprise software. With the advent of cloud, social and mobile, the gulf of expectations has narrowed because we are switching between apps related to work and play throughout the day. Enterprise employees are also consumers, and they've come to expect consumer-level design in all the tools they use. The millennial workforce expects enterprise apps to be fast, connected, and available on all devices, at all times. Meanwhile, SaaS has lowered the cost of switching and encouraged competition - moving the battleground from the spreadsheet to user experience. Also, the adoption is clearly measurable, hence, the user experience is now more quantifiable than ever. Moreover, enterprise software makers are using design thinking to create the best possible applications. Due to all these reasons, even internal apps, custom applications, and partner apps are expected to be of the highest quality with respect to user experience.
How to create enterprise apps with consumer-grade UX?
Good design also enables enterprises to eliminate inefficiencies and extra costs that are passed on to the end-user in time spent, money lost, and frustration increased. In fact, when an enterprise prioritizes user experience for its internal tools, it becomes a more effective organization; recent studies show that design-driven companies outperformed the S&P average by 228% over the last ten years. So how does an enterprise create enterprise apps with consumer-grade UX without compromising on the speed of application delivery?
Beautiful apps at the speed of business
At WaveMaker, we fully appreciate the role of user experience in the success of enterprise software. That belief also translates into features in our award-winning RAD platform. The following capabilities empower developers to churn out beautiful apps at the speed of business using the WaveMaker low-code platform:
The auto-responsive layout allows developers to create the app once that automatically adapts to multiple devices like PCs, tablets, and smartphones
Mobile and Web Templates to jumpstart application design with inbuilt app templates that range from login pages to dashboards
A large collection of Application Themes that ensure a consistent experience across pages and UI elements
Native Mobile experience with Native UI Controls (HTML5) that adapt and conform to the platform (iOS/Android)
Live Preview of the application on multiple resolutions and devices to create a consistent user experience across all form factors
Easy Customization using UI properties and CSS for creating a pixel-perfect user interface
Get started with a free trial of WaveMaker RAD Platform today!
In continuation of the RAD Architecture Series, we are going to focus on Client-side Framework in this post.

Good user interface and usability can have a strong positive impact on the adoption of the application by end users. At the same time, it takes good skills to build good user experience. It is not just science but an art that is mastered by a few.

Developing the UI for web applications has been very sluggish, unresponsive and difficult for many years.  However, in the recent past, with the advancement of client-side technology (JavaScript, browsers, standardization, frameworks), it is now possible to create sophisticated UI. However, it  is important that one selects the right combination to make all this work seamlessly and simplify the developer experience. Otherwise it still can get complex and messy for UI developers.

With WaveMaker Platform, the following aspects were evaluated before selecting the right framework:
Support for a Framework that encapsulates modern client side architecture while also providing ability for developers to easily customize client side behavior

Support for responsive user interface that can adapt well to modern devices

Support for Single Page Applications

Well-designed client-side MVC framework

Plug-and-play of jQuery and JavaScript libraries

Support for 2-way data binding between Model and View
And finally the most important one was selecting a framework that had support and backup of a large community of developers, users, and enterprise adoption.
With the above considerations, WaveMaker chose to adopt AngularJS client-side framework. AngularJS was created by Google and has a big following among client-side developers and is backed by a strong community. All applications including web and mobile developed using WaveMaker auto-generate AngularJS code for the client-side user interface.

With WaveMaker, all the client-side UI widgets are wrapped using AngularJS directives.
WaveMaker allows developers to drag and drop these widgets to create a sophisticated user interface. These widgets allow customization using properties and offer greater sophistication in terms of usability and support data binding with any backend sources.  You will learn more about them in the next blog post in this series.

Another advantage of WaveMaker is that developers can customize client-side behavior by writing custom JavaScript as well as importing 3rd-party jQuery or any other JavaScript framework. Head over to the Wavemaker  Rapid Application Development Platform page to learn more about the features and frameworks.
In the next blog post in this series, we will deep dive into the UI widget architecture. Stay tuned!
All of us live in a world that is definitively moving towards being completely digital. Organizations, big and small alike, are finding it difficult to adapt their IT needs and practices to align with the modern world.  There have been half-hearted attempts to move towards automation.  App development is one such area of concern for IT managers.  App development is still largely controlled and managed by large engineering/technology teams relying on traditional ways of doing development, which are focused on technology rather than business imperatives. Also, the business stakeholders like product managers and business analysts are part of the development process only during logical units and the technical modules are developed in silos and then a big-bang integration cycle happens, gobbling up enormous amounts of time and energy.  Process improvements like Agile and Scrum have improved business stakeholder involvement during the development cycle, but with limited success.  The real problem will be solved only when a new revolutionary way of application development evolves, where the business stakeholders drive the show with technology stakeholders playing the second fiddle.  But it has to be supported by an equally effective development process and an able application development platform.
Low-Code Platforms
Low-code development has been proposed as an alternative to the traditional IT app development process.  It has been adopted by a handful of organizations across the globe and has, to a small extent, alleviated the challenges mentioned in the last section.  But it is yet to scale up to be universally appealing to everyone in an enterprise. For instance, there is still a big dependency on the technology teams to get things done due to which business teams still use out-of-the-box SaaS services, which offer limited flexibility to get things done thereby, creating more silos inside the organization.
2-pass development
WaveMaker, Inc. proposes 2-pass development as a new app development methodology that can be used with a low-code platform to do away with all the application development challenges that were mentioned earlier and to optimize the entire app building experience.
The 2-pass development approach, as it says, has 2 passes in app development- a business pass and a technical pass.
Business Pass
Any time an app is to be developed, the requirements are passed on to the Business pass team comprising of business stakeholders like product managers and business analysts and we group them as "RAD Developers".  They gather the app requirements and start to build the app using a low-code platform like WaveMaker.  App-building is usually the creation of the user interface with live/test data, using visual app building experience provided by the platform.  Visual app-building involves simple drag and drops for UI building, connections to various systems like DB, LDAP, and ERP, and 1-click deployment into various environments like QA, staging, and production among a host of other rapid development features.
However, there will invariably be some app requirements that are not available out of the box and need to be customized for the specific app.  These are the requirements that will be passed on to the technical pass team to be taken care of.  For instance, a particular customized UI widget that is not available out of the box would be requested to be built by the technical pass team.
Technical Pass
The technical team accomplishes two purposes.  First, they create all the generic visual reusable components that are needed for the app-building by the Business Pass team.  Secondly, they also create the specific app requirements that come from the Business Pass team and they quickly get back to them.
Members of the technical pass team are professional developers who specialize in front-end, back-end, and integration(API) development.
Benefits of 2-pass development
2-pass development and Bimodal IT
The best part of the 2-pass development philosophy is that it fits nicely into the popular IT philosophies.  One of the most popular ones is the Bimodal IT.  Check out the synergistic relationship between 2-pass development and Bimodal IT.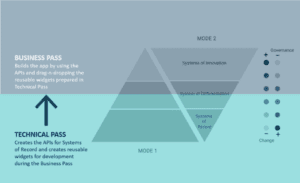 Business-focussed app development
One of the biggest benefits of 2-pass development is business-focused app development.  Since the Business-Pass team, comprising of business stakeholders,  is a part of the app development team, they are completely plugged in during the app development process.  This is completely different from the traditional development process, where business stakeholders are plugged in during the initial requirements gathering phase and then only in logical intervals of task completion.  In fact, low-code platforms like WaveMaker allow you 1-click preview, which allows you to view the project as a customer would see and offers you the exact stage at which the project is in.
Do away with a force-fitted integration cycle
Even when the Business Pass team reaches out to the technical pass team, it's driven by business imperatives rather than a technical overhang.  This change is important since it does away with an entirely important part of the traditional app delivery process - namely the Integration cycle and testing.  In the traditional process, Integration testing in some cases weeks to months together, since the technical modules got started to be done in silos and then they were integrated.
But in 2-pass development, we start with a single project and reach out to the pass-2 team only when there is a need for customization.  Even the pass-1 team is expected to work directly within the aegis of the low-code platform and hence the integration testing cycle is completely eliminated.
2-pass development and Agile process
The best part of the 2-pass development philosophy is that it's not a brand new philosophy and fits nicely into the existing app delivery methodologies like Agile.  It can use the existing resources and in fact optimize their usage.  For instance, each of the passes can be independently handled as an agile process.  And the collaboration pass, where the business and technical passes need to collaborate, can also be done in an agile process.  A good low-code or No code platform will make this process easier, because both the passes, though they do different kinds of work, are done inside the same platform.  So anything that is being developed by technical pass is visible to the business pass during the development.  In a way, the business team is a client of the technical pass team.  In this way, even during collaboration, the project is driven by business imperatives rather than technology dependencies.
WaveMaker Low-Code platform for Rapid Application Delivery
Organizations across the globe rely on WaveMaker to leverage 2-Pass Development for their application delivery needs. Our Rapid Application Development Platform is the most open, extensible, and flexible low-code platform that complements your existing enterprise application delivery. You can get started with a free, 30-day on-premise or online trial.
Modern businesses demand greater agility, speed, and continuous innovation when it comes to applications. Apps are the lifeline for enterprise innovation. Additionally, end-users have raised expectations around usability, availability, and usage of apps. Enterprise developers have to rethink the type of architecture and approach to use while developing web and mobile apps.
Within the industry, analysts use various terms such as Rapid Application Development Platforms, Low-code Development Platforms, etc. to categorize platforms that enable quick and efficient development and delivery of apps.  As we explore such platforms, one subtle yet critical aspect that fosters a highly productive development environment is the app architecture enabled by the platform.
WaveMaker RAD Platform is built on a set of core principles that enables a modern app architecture. In this set of blog posts, we will talk about the various aspects of a modern app architecture enabled by WaveMaker. This is the first post of the series, where we explore the list, and then in subsequent posts, we dive deep into each one of them. Please note that the word app refers to both web as well as mobile applications across all the blog posts in this series.
There are various components of a full-stack application that impact the working and productivity of the application. The choices that are made for each component determine the flexibility and suitability of the overall application for meeting modern business needs.
Fostering modern app architecture by choices made for the following,
Client-Side Framework
UI Widget Architecture
Data Model Layer
Responsive Design
REST enablement
App Security
App Composability
App Scalability
Real-time Support
Cross-Platform Support
Mobile Native Support
Continuous Delivery
Deployment Targets
In the upcoming posts, we will talk about the choices made by WaveMaker for each of the above. We will also talk about how WaveMaker unifies all the above into a unified platform, thereby, providing maximum productivity for Mobile & Web app development.
So stay tuned, and let's deep dive and create some waves!!
Forrester defined low-code development as, "Platforms that enable rapid delivery of business applications with a minimum of hand-coding and minimal upfront investment in setup, training, and deployment."
To achieve this, a  low-code platform allows collaboration between developers, business analysts, and subject matter experts which enables an alignment between business and IT. it helps reduce IT backlog, speeds up development and delivery times. Lastly, modern frameworks used in low-code platforms provide consumer-grade applications using enterprise-grade technology at a fraction of the cost.
For a company or a business to choose the right low-code platform development tool, they need to weigh out what benefits/priorities are a good fit for their requirements. We have put together seven key questions that will help you make an informed decision while choosing the right low-code platform for you.  
To Summarize, we at WaveMaker,  have taken into account the above questions keeping the end-user and business stakeholders in mind while creating our low-code platform. The WaveMaker low-code platform reduces the coding effort by an estimated 75% with its ready-to-use templates, themes, and easy drag & drop features. It facilitates easy integrations of APIs, import databases including web services as well as allow you to secure your application with authentication and roles. Developers are allowed to customize, extend markup, script, styles and they are provided with the option of 1-click test and deployment.
Get Started to experience what you can do with WaveMaker.