Make data more digestible
A byte about visual modeling and programming
Visual modeling and visual programming techniques transform numbers into visual elements such as charts, maps, graphs, and tables using standard graphical notations. Data visualization is crucial in supporting real-time decision making and has become a core feature in modern application development platforms. Visual modeling and programming not only allow you to build a model of your system or application, but also to model systems easier, faster and more accurately on the front-end, while maintaining the syntaxes and semantics at the back-end.
Try Model-Driven Development
Today's software and application demands require a ready-to-use foundation before anything is built on it. To eliminate iterations in your application development lifecycle, a powerful approach is to adopt model-driven development. By using a model as a starting point to describe your business semantics and then generating application artifacts from that model, you can deliver applications faster with higher productivity.
What low-code platforms have brought to the table in terms of visual modeling and programming, is easy-to-use, drag and drop features, and customizable widgets, helping you to create critical and device-agnostic applications with responsive dashboards.
Whether it is full or partial dependency, find out what type of Model-Driven App Development Approach suits your business and application development needs.
Achieve data visualization with minimal coding
Take Visual Modeling and Programming to Next Level Using Low-Code
"It took a single developer 1 week to build an entire application!" Find out how low-code addressed a real-world problem using visual modelling techniques.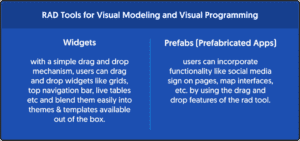 The Low-Code Leverage
Advantages of using WaveMaker for visual modeling and programming
Visual programming and visual modeling just got easier. You can instantly create a chart, plot a map, or build a dashboard to visualize data from any source using WaveMaker. By using built-in widgets and prefabs, you can build applications within days without any need for coding.
Ensure high quality of code : Incorporating the best practices followed by professional Java or Javascript developers, WaveMaker guarantees best code quality, maintainability and extensibility for enterprise application use.
Automate code generation :  Taking a radically different approach to use open-standards based generated code, the WaveMaker platform automatically generates code for every action performed via drag & drop features.
Lower costs :  Experience significant reduction in development and maintenance costs. Enterprises using the WaveMaker platform for application development have, in some cases, lowered maintenance costs up to 75%.
Reduce coding effort with fewer resources : Applications can be developed rapidly on WaveMaker with easy prototyping, testing and deployment, with 80% less coding effort and fewer resources.
Intuitive and visual : Built not only keeping in mind developers, but also business users, the WaveMaker platform offers unique drag & drop features, WYSIWYG layouts and out of the box themes and template designs, making application development easy for any user.
Save time on application development : Enterprise users experience, on an average, 67% faster application development time using the WaveMaker platform, when compared to traditional software delivery.
It's a data-driven world! Whether the objective is to visualize data, modernize legacy systems, or deliver a personalized experience, business-critical applications are being developed at greater speed. To develop customized applications at greater speed, low-code provides professional developers with the much-needed agility.
Find out how you can enhance your visual programming and visual modeling techniques using low-code.
Low-code means different things to different people. While the industry is exploding with low-code platforms, ours is purpose-built for professional developers. If you are already using a low-code platform or shopping for one, there are many critical factors to consider. Read on..
Start with these simple questions first
Will I be the owner of the code?


The code should be yours to mix, extend, customize, transfer or export
What should "no lock-in" mean to me?


No shackles of run-time cost, proprietary architecture, and limited infra options
Will the developers need to be certified to use the platform?


You want quick learning and future-proofing your teams' skills
Is my vendor's pricing strategy sustainable?


Scaling up shouldn't disproportionately increase the cost of doing business
Low-code vs Low-code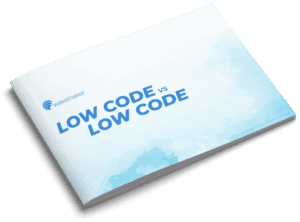 With over 2 decades of experience in the application development and modernization field, our product evangelists have enlisted 12 critical capabilities to consider while comparing various low-code platforms.
Find out how the 5 most popular low-code platforms stack up on each of these capabilities. Download the document for an objective, quick, and consumable take on the comparison of low-code platforms
CODERS love low code when
It generates code that they can easily extend.
API endpoints are generated for all kinds of data.
They have full application source control.
There is no runtime dependency on the studio.
They can mix and maintain their own code.
CXOS like low code when
Their teams need no reskilling.
Their existing process are not disrupted.
They pay for developer seats, not apps for users.
It runs on the infrastructure(s) of their choice.
Licensing model is transparent and promotes scale.
WaveMaker saves
Reduce repetitive development work and save heaps in time and effort.
Explore the unique requirements of enterprise application development and learn how to choose the right enterprise application development software.
Enterprise Application Development is a complex process of creating application for business purposes. They are complex, customized for critical business requirements and can be deployed on the cloud, on a variety of platforms across corporate networks, intranet etc. Designing and developing such enterprise applications means satisfying hundreds or thousands of separate requirements.
How are Enterprise Applications Different ?
An enterprise applications are large multi user, multi developer and a multi component applications that can work on large chunks of data and utilise extensive parallel processing, network distributed resources and complex logic. These applications can be deployed across multiple platforms and operate simultaneously with many other applications.Enterprise applications are business oriented and deployed to meet specific business requirements. They encode business policies, processes, rules and entities and are developed with specific business requirements in mind. Hence, these applications require special tools in the form of enterprise application development software to cater to their unique needs.
Traditional Enterprise Application Development Software and their Shortcomings
Though traditional application development methodologies, are known for having clear objectives, stable requirements and measurable progress of development, they are time consuming, have minimum iterations and there is very little customer interaction. Hence, traditional application development methodologies and tools are unable to fulfill the demands of modern enterprise applications.The failure is not just for web applications, traditional methodologies are not a perfect match for mobile application development as well. Some of their shortcomings are
These Application are linear and predictive. They follow sequential flow and make any new changes time consuming and difficult
Applications are low in productivity due to high lead times and time consuming.
The application development Involves stringent documentation and reviews at every stage which are done by developers mostly. Thus the business imperatives naturally take a back seat.
User or the customer is involved at the beginning during the requirements stage and then in the end delivery during user acceptance stage. Their is no active involvement from users in the intermediate phases which lead to many changes in the end thus increasing cost and time
Elements have to be designed and constructed from the ground up as per project requirements and hence, are not reusable.
Hence it can be summed up that Enterprises today are in the look out for better tools, applications and software as the traditional methodologies could not gain much success.
Changing Trends in Enterprise Application Development
New and Emerging trends in Enterprise Application is impacting application development in a big way. Let us see the key trends :
Usability (UX) – Usability is the norm of the day in when it comes to Enterprise Architecture. Users expect their apps to be more intuitive and provide more relevant content suited to their own business needs. In the coming year, developers will have to focus more on ease of usability and responsive design.
Consumerization of IT– Consumerization of IT has impacted Enterprise Application's changing landscape. Technology today is consumer oriented. Business imperatives are given utmost importance.
Commodity Computing (cloud), horizontal scaling – Applications today are hosted , developed and customised on the cloud . Cloud computing has increased accessibility and ease of operation for users of Enterprise application development.
Rapid Application Delivery & Low-code Development – RAD or Low-code development is the new trend in Enterprise. Minimal Coding is making Enterprise Application Development more business centric and easy. Customers are involved at each phase of development.
Loose Coupling (APIs, Microservices, Composable architecture) – With the introduction of Loose Coupling and microservices enterprise applications are delivered as an independent runtime service with a well defined API. The Microservices approach allow faster delivery of smaller incremental changes to an application.
Traditional methodologies of application development are very rigid and process oriented. They involve a series of steps like requirement, definition, planning, building, testing and deployment which lead to high cycle times at each stage. The traditional format requires projects with large teams and strict roles while maintaining stringent documentation and review at every stage of development. The customer interaction is minimal which takes place during the beginning and the end of the project. Every element that is designed in a project needs to be designed from scratch and is not reusable. All this translates to,
Choosing the right enterprise application development platforms
Modern enterprise Application development focusses on reducing application development timelines and at the same time addresses a whole gamut of other related aspects of modern web applications required for today's modern Enterprise. Modern day application is rapid in terms of timeline, cost, and usability . We call them RAD ( Rapid Application Development) and they emphasizes on:
Ready-made Application Infrastructure: Providing a browser based development environment. No more hassle of installing, setup, ongoing configuration etc.
Usability: Making sure good-looking and rich user interactive applications can be developed. Increased attention to creating pixel perfect responsive UI applications on both Desktop as well as Mobile Devices.
Full Stack Development: By leveraging modern client side frameworks and server side technologies, Modern RAD is now capable to auto generate code for the entire application (client side, Server side as well as integration touch points to external systems and services via APIs).
Pre-Defined Best of Breed Technology Stack: Providing a pre-defined well tested best of breed of software components as the technology stack for application development. No more worries about enterprises having to maintain multiple teams to support complex permutations of technology stacks.
Business User Participation: Simplifying the application development process such that technical business users can work together with professional developers in developing the application. This greatly benefits enterprises as business user comes in with domain knowledge and can validate the implementation, as it is being developed.
API-led Integration: Providing REST API based integration approach such that application can easily integrate to an internal, external as well as Cloud based service. This allows for faster, easier development and avoids reinventing the wheel again.
WaveMaker – the ideal enterprise application development software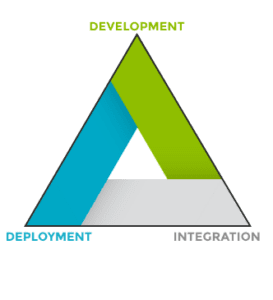 WaveMaker is an award winning rapidly Enterprise application development and delivery platform that helps create enterprise grade web and mobile apps. With over 10 years of market presence, thousands of developers use it to create applications 67% faster.
WaveMaker's software platform revolutionizes how enterprises build, deliver and manage modern custom applications, improving business agility and fostering innovation. WaveMaker leverages the latest trends and technologies in Rapid App Development (RAD) such as multi-device auto-responsive interfaces and componentized app assembly, Docker for app-optimized container deployment on private infrastructures, and APIs and Microservices Architecture (MSA) for scalable integration.
Visual development that delivers web and mobile apps at the speed of business
Instant migration of legacy applications based on proprietary technologies such as Lotus Notes, MS Access, Oracle Forms, etc.
Centralized IT for all the applications with hassle-free continuous integration and release management
Single platform that works for business users as well as professional developers
Future-proof platform that is based on open standards and technologies trusted by millions of developers
No vendor lock in with flexible deployment and export options Offers the lowest total cost of ownership and transparent pricing
Get Started with a free 30 day trial of WaveMaker Enterprise Web Application Platform.
A RAD approach to build future-ready apps​
One way to drive the adoption of applications is to build one that's customized to the user. When you have teams within teams, from cross-functional to self-managing teams, every user, from an IT leader to a line of business (LoB) executive, demands modern applications designed to their requirements. The essence of agile enterprises is to create value and flexibility for business users with fluid IT capabilities.
IT cannot deliver all the custom apps that your business needs Address the pace of your application development needs with Custom Application Development Services
Create new or extend existing applications
Create data models, relationships and database constraints from existing system of records
Develop auto-import pipeline for existing database schema with support for multiple database platforms
Enable connection to Mobile backend services (MBaaS) of your choice (like AWS Mobile Services and Azure Mobile Services) for identity management & sync, analytics, push notifications, and more
Develop new integrations (or) connect with existing web services APIs (REST and SOAP) to enable an API-based custom application development
Customize application development
Create native experiences
Enable access to native device features like camera, location, network, battery, contacts, local storage and more in your enterprise app
Accelerate app performance by leveraging offline storage
Develop native themes and UI controls (HTML5) that adapt to any screen of choice
custom app development
Drive application adoption and use
Create internal developer network and app stores
Automate and implement app version controls and revision policies
Build enterprise-grade, custom applications that are future-ready with wavemaker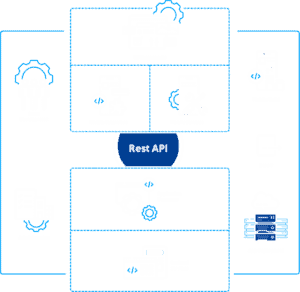 Great looking apps out of the box : Quicken event driven navigation and create consistent design using pre-built themes and app templates.
Extensible code base : Easily extend or maintain code generated using your favorite IDE.

No code lock-in : Generate code that can be exported as a ZIP or WAR file and is Maven compliant, Open Source.

Lower infra TCO with Docker : Use a lightweight Docker-based containerization model that runs 2-3 times faster than VMs.
Accelerate API reuse : Drag & drop use and re-use custom built "Prefabs" to accelerate application development.
RAD platforms such as WaveMaker are revolutionizing how enterprises build, deliver, and manage modern custom applications. Improve business agility, foster innovation and accelerate application development.
Accelerate the journey to cloud-native, omnichannel, microservices-based enterprise-grade applications with a composable experience platform powered by low-code.
A McKinsey survey found that in 2021, "companies devoted more resources to their digital and technology capabilities during the pandemic, even as they cut resources from other parts of the business."
This should come as no surprise given the dramatic change in business models, competitive landscape, and customer behavior seen in the last couple of years. In response, enterprises across the globe are modernizing their application stack to increase agility and performance, and provide compelling customer experiences.
What is application modernization?
Application modernization is the process of identifying legacy apps—which are typically on-premise, monolithic, and written in outdated languages—and modernizing them into cloud-native, omnichannel, microservices-based, feature-rich digital applications with intuitive customer experiences.
It is important to note that application modernization is not just about upgrading the software. It is often also accompanied by a modernization of processes to be more agile with shorter release cycles and the transformation of the organization itself to be more experimental and innovative.
What does application modernization entail?
An application modernization initiative is driven by changes across the three levels of the app: Experience, integration, and architecture.
Experience modernization
Upgrading the user experience (UX) layer for a more modern, responsive, cross-platform design to deliver personalized experiences to customers.
API modernization and integration
Making legacy data accessible through channels like the cloud, mobile, web, etc. via APIs. A well-managed API serves as a mechanism for enterprises to leverage their digital assets and build new products around their core capabilities.
Architecture modernization
Transforming the architectural foundation of applications by adopting modern technologies to enable agility, scalability, portability, speed-to-market, development efficiency, and ongoing innovation.
Using hybrid architectures including public and private clouds allowing an enterprise to move workloads between the two platforms. Sensitive data can be hosted on a private cloud for security while big data applications can be stored on a public cloud for cost efficiency.
Microservices
Leveraging modular, distributed, small, single-purpose applications called microservices that deliver services using APIs. Microservices is poised to take scalability and continuous delivery to the next levels in the years to come.
Containerization
Building portability and reducing infra dependency with containers, which wrap up an application in a complete filesystem that has everything it needs to run: code, runtime, system tools, and system libraries. This enables it to run smoothly regardless of any environment.
DevOps
Transforming development methodologies from traditional waterfall towards DevOps and DevSecOps models, bringing agility, speed, and efficiency into enterprise teams. It empowers technology teams with experimentation and innovation capabilities, so they can adapt to market needs more effectively.
Why do enterprises need application modernization?
Traditionally, applications are built around operational efficiency—delivering the best possible service in the cheapest way they can. Today, this is not enough. Organizations need more. They need:
Differentiated and personalized experiences
In the rapidly changing world, customers demand their banking app or online shopping app to deliver the same sticky and personalized experience that their social media and gaming app offers. Legacy applications are unable to deliver this. To meet the customers where they are and deliver on their needs, enterprises need application modernization.
Faster time to market
Enterprises can not afford to build an internal team or outsource to an external vendor and wait for months to launch new features. For instance, when the pandemic hit and banks needed to sell online, they couldn't wait a year to develop that capability. Today, taking digital experiences to the market quickly can be the most powerful competitive advantage. Legacy apps can't enable that. IT modernization has the potential to reduce defects and time-to-market by up to 60%.
Optimizing costs
Legacy monolithic applications are large and take up significant resources to function. Application modernization breaks them down into smaller, manageable microservices, using only the resources that are absolutely necessary. Additionally, by leveraging composability, enterprises and software vendors can also create a repository of functional components that can be retrofit into existing applications, gradually replacing existing functionalities while not disturbing existing processes and thereby, reducing costs. With containers, modern libraries, and dynamic scaling of cloud platforms, organizations can save both real and opportunity costs of running enterprise applications.
Ongoing security
Every day, new threats are emerging online. Monitoring and protecting legacy applications can be a mammoth endeavor in itself. Application modernization enables enterprises to build more secure applications, shifting security left in the development process. Moreover, it also makes it easier to address security threats and deploy patches faster and more effectively.
Improved developer productivity
Legacy applications are often written in languages and follow processes that do not have the talent pool available to develop and maintain them. Containerization allows polyglot teams to function effectively together, setting up dev environments faster and ensuring that the app works on production environments the same way it did on the developer's machine. With a composable approach, functional components created by IT teams can further be reused by business developers and implementation teams to quickly modernize smaller bits of applications. In fact, with IT modernization, enterprises increase employee productivity by up to 30% and motivation by up to 40%.
Organizational agility
More often than not, application modernization is not merely changing the software to a modern environment. It is accompanied by a cultural change towards building smaller services, deploying them in smaller cycles, receiving feedback, and optimizing continuously. To leverage cloud platforms, containers, DevOps processes, etc., the organization needs to transform itself into an agile and adaptive enterprise—a change that powers sustainable growth and profitability.
What are the key challenges in adopting application modernization?
While the benefits are overwhelming, enterprises continue to struggle to adopt application modernization for a range of reasons.
Dearth of talent
Application modernization initiatives often involve the transformation of mammoth applications. This not only requires technologists who understand cloud-native, microservices-based app development but also have a clear grasp of business logic and industry acumen. This combination of subject matter expertise and technology skills is a challenge to find.
Fear of disruption
IT leaders often fear disruption of their mission-critical enterprise applications, and rightly so. Moreover, the enterprise technology landscape can be so complex and precarious that touching one app can bring the entire deck of cards down. Therefore, creating the right application modernization strategy that ensures a smooth transition from legacy to modern applications remains a challenge.
Lack of budgets
Large-scale application modernization projects can be expensive, whether you're building with an internal team or outsourcing it to an external vendor. Without a clear view of the return on investment, IT leaders struggle without the budgets to launch app modernization projects.
Large number of applications
A recent study found that enterprises use an average of 200 applications, with security, engineering, and IT using the most. While some of these are SaaS products, most tend to be legacy apps. Modernizing them all at once would be a significant burden on the company's bottom line. Without repeatable architectures and composability, the redundancy of work will also be high.
IT and business not talking to each other
For any technology initiative to demonstrate value, it needs to meet the needs of the business. When IT and business teams don't talk to each other, they run the risk of launching application modernization initiatives that don't drive business results. This affects the organization's—teams, leaders and the board included—enthusiasm towards application modernization.
Past failures
For decades, enterprises have attempted to modernize their applications with little success. A recent BCG study showed that "70% of digital transformations fall short of their objectives, often with profound consequences." Once bitten, twice shy, IT leaders resist taking the plunge again.
What do enterprises need for application modernization success?
Not all application modernization initiatives are the same. To ensure success, enterprises need to adopt an app modernization strategy that works for them. Here are some pointers to keep in mind.
Taking a business-centric approach:
It is not uncommon for enterprises to choose the oldest application to modernize first. This app modernization strategy, even when the project is successful, it falls short of the business transformation it can deliver. Instead, we recommend that enterprises choose applications that offer the most valuable business capabilities. When an app modernization initiative delivers ROI, it makes it easier for the entire organization to get behind it.
Choosing the right application to modernize:
Gartner suggests that enterprises evaluate potential apps to modernize on six drivers. Three of them are business-related: business fit, business value, and agility; and the other three are technology-related: cost, complexity, and risk. The best opportunities offer transformation across multiple drivers.
Whether you're beginning a pilot project, or modernizing your nth application, a clear, strong, relevant, outcome-driven business case shields you against the risks of failure in several ways.
Instead of entirely dumping the enterprise application for a modernized one, organizations must consider a progressive approach to breaking down monolithic apps for microservices-based ones. By integrating legacy systems with modern apps through APIs, enterprises can continue their business as usual without disruption, while building future-proof tech along the way.
Having a holistic view of modernization:
We believe that for application modernization to deliver on its promises, it must impact at three levels: Infrastructure, development, and delivery. A strong app modernization strategy must enable multi-cloud leverage, rapid and error-free containerized delivery to create open standards, multi-channel and microservices-based apps.
A modernization accelerator:
Time-sensitive and cost-conscious projects can not wait for months to build. They need the speed that can only be delivered through automation, simplified integrations, dynamic scale, etc. They need to minimize redundancies and reuse existing builds. They need a robust low-code platform to accelerate enterprise application development.
Rapid app modernization with low-code
What is low-code?
Low-code is a modern approach to agile software development. A low-code development platform helps developers create products visually by abstracting and automating commonly used components. Developers can easily drag and drop commonly used features instead of having to code extensively.
How does low-code help in application modernization?
Addressing all of the above challenges intuitively, low-code is one of the best app modernization tools available today.
By abstracting and automating complex processes, it allows business users and subject matter experts to build applications at speed.
With the ability to instantly turn existing business logic and services into consumable APIs for reuse, low-code platforms help avoid repetitive work.​​
Tried, tested, and popular templates & prefabs accelerate the creation of responsive front-ends.
Custom prefab repositories for user journeys enable composability, accelerating the creation of new apps or modernization of existing ones.
API modernization and integrations enable enterprises to seamlessly transition from legacy apps to modern ones without disrupting the business.
It offers significant cost savings, not just in development but also across deployment and long-term cloud usage.
Developer-seat pricing and portable code enable long-term software investment protection as well.
It helps build secure apps with RBAC and protection against Top 10 OWASP vulnerabilities.
It future-proofs development by using the open standards-based stack for seamless extension, customization, and ownership of code.
How does application modernization with low-code work?
A good low-code platform serves as an app modernization tool that abstracts and automates processes at every stage of the software development lifecycle. How to choose the right platform for rapid app modernization with low-code?
While choosing the low-code platform for your application modernization strategy, ask yourself the following questions.
1. Is the platform suitable for professional developers?
A good low-code platform can be the app modernization tool of choice for professional coders, who want to build powerful, long-lived applications that offer a differentiated experience on the web and mobile, which can evolve with user needs.
2. Is the platform built on open standards?
A good low-code platform needs to have the foundation of open standards in order to ensure an open and extensible approach to application delivery. Also, the platform should use a best-of-breed application stack for developing full-stack applications.
3. Does the platform simplify external integration with inbuilt integrations?
A good low-code platform must enable out-of-the-box integrations for data and services. It must offer custom integrations to be built and reused across apps. It must also enable integrations with legacy applications for implementing incremental development.
For instance, the information and digital systems office of the State of Geneva incrementally modernized over 40 applications using WaveMaker while keeping the integrations intact for seamless BAU.
4. Does it offer cross-platform development?
A good low-code platform must offer the ability to create applications using a single code base that can adapt to any native platform or operating system, be it iOS, Android, Windows Mobile, BlackBerry/RIM, etc.
Canadian foodservice distributor, Flanagan, leveraged WaveMaker to achieve this. They reached out to WaveMaker to replace the existing application with a modern and responsive interface that provided a better, more consistent user experience across browsers and devices.
5. Does it handle scalability and cloud needs?
An end-to-end low-code platform will offer the ability to scale applications and handle private cloud needs. This will be in the form of features for rapid and continuous provisioning, deployment, instant scale-ability, and maximum utilization of resources.
6. Does it make it easy to create, share and consume APIs?
A robust platform will take an API-first approach to application delivery, making it easy to import data from any service and bind it to UI components.
7. Is it easy to maintain code?
A sustainability-focused low-code platform ensures maintainability, where the code generated follows design patterns, is well-organized, uses standard naming conventions, and generates documentation that developers can understand and maintain.
8. How well does the platform handle security?
A secure low-code platform will support flexible authentication and authorization mechanisms as well as integration support for popular identity management systems like AD, LDAP, SSO, and OAuth.
9. How well does the platform handle customizations?
A flexible low-code platform will allow customizations in the form of leveraging their existing systems or the ability to allow custom coding or integrations with modern AI and IoT-based systems.
10. How can the platform accelerate the development of multiple apps?
A good low-code platform not only accelerates the development of your first app but also strengthens the foundations of ongoing modernization. For instance, with a composable experience platform, you can create custom user journeys such as completing a transaction or creating a dashboard. This user journey can then be used to build new apps — all it takes is to plug and play. At each new app, users can customize it, if needed.
This is what J.J Richards, a WaveMaker customer, did while building a comprehensive set of 10 critical applications using a lean team within just 18 months!
11. Is the platform future-proof?
A good low-code platform should have the latest tech stack that allows you to build a modern responsive UI in your apps. The platform should make it easy to move your workload, i.e your applications to multi-clouds with containerization. Furthermore, the platform should be flexible in integrating or adapting to newer technologies and trends entering the market.
Like the Bank of Social Security, the Netherlands did while transitioning their mission-critical applications from the Microsoft framework to Java low-code in mere months.
Begin your application modernization journey with WaveMaker's composable experience platform powered by low-code
WaveMaker is the most open, extensible, and flexible Low-code Platform that complements your enterprise application delivery while keeping in mind the requirements of Software Developers, Citizen Developers/Business Users, IT Architects, and CIOs.
Bank of Social Security, Netherlands modernized legacy apps and built new ones with WaveMaker.
Read case study
The information and digital systems office of the State of Geneva built 40+ applications with complex integrations using WaveMaker.
Read case study
Australian waste management company achieves rapid modernization of 10 critical applications leveraging WaveMaker.
Read case study
Canada's largest independent foodservice distributor improved user experience with WaveMaker.
Read case study
Ask for a demo today!
The years 2020-21 will be remembered for the pandemic and the subsequent resurgence. It will also be remembered for the time where over half the world's population pulled out their mobile phones to buy groceries, order food, get paid for services, shop for clothes, and even pay for healthcare. While the pandemic ravaged nations, humans quickly adapted to new ways of transacting. Financial transactions through almost any app of any industry became a reality and more or less a force of habit.
What made that drastic leap possible was set in motion years ago with the advent of Open APIs. The emergence of public APIs and regulatory changes such as PSD2 spearheaded the 'Open Banking' revolution. A flurry of fintech companies followed, offering to 'embed' financial services in non-financial apps. Financial capabilities once considered the privilege of banks, became a necessary touchpoint in the customer journey of any brand. While banks still held dominion over regulatory licensing, fintech was able to squeeze in financial offerings between the layers of 'bank' and 'brand' with alacrity: Thus leading to the emergence and rise of 'embedded finance'.
In fact, according to Juniper Research, in 2021 alone, the 'embedded finance' market is said to be valued at $43 billion and is set to soar by 215% by 2026.
Early Adopters and Present Trends
Uber and Lyft are some of the most well-known early adopters of embedded finance.. Tackling the simple pain-point of cab riders (searching for cash, taking out a credit card, toggling between apps), Uber introduced embedded payment in its cab booking app. Its early success in alleviating a major pain point in customer experience spawned a rush for embedded payments in large, digital savvy, non-traditional players ranging from e-commerce (Amazon) to food delivery apps (Deliveroo). Fintech with technical know-how and financial acumen followed suit with offerings customizable for banks and brands.
This led to the emergence of another layer between fintech and banks, what is called Banking-as-a-Service (BaaS). Unlike Open Banking that offered only data, BaaS offers APIs for banking services that fall under the ambit of regulatory services. The fact that these APIs could now be leveraged in any digital customer journey opened up a plethora of value propositions for brands, hitherto not possible--retailers providing a 'Buy Now, Pay Later'(BNPL) option, car dealers offering loans and insurance, and utility providers launching wallets.
The customer-share pie for financial services became open to all.
What started as embedded payments has now evolved into multiple use cases such as embedded insurance, embedded banking, embedded credit, and embedded investment. The use case list has expanded to every industry from retail to HR and has the potential to morph further. While digital-savvy, large enterprises are quick to adopt, small businesses are also jumping into the fray. Uber which was only offering payment services, now offers loans to its drivers and an Uber debit card for a checking account to its users. On the other hand, banks, both new and traditional, are opening up new avenues to reach out to their customers.
For brands, it is the customer journey that matters. For banks, it is high volume and less cost. A win-win in any case.
Speed Bumps in API Adoption
If we look at banking trends over the decades, the underlying driving force that has spawned thousands of new players in the financial services industry is most surely -- APIs. From Open Banking to now Banking-as-a-Service, companies that have proactively embraced the evolution of APIs have been successful in embedding financial services. However, it is easier said than done.
Banks/ Providers typically have an API-only approach. There is no touch and feel. The graphical elements or abstractions on top of these APIs need to be recrafted and customized per brand, per use case. With virtually every bank jumping into the bandwagon, brands (especially SMBs) look for technical expertise to evaluate and buy from the exhaustive list of APIs. Navigating the labyrinth of APIs would also involve sourcing and integrating APIs from multiple providers, brands, and third parties. To build a digital layer over the APIs, the brand has to either depend on its own IT and available tools, or they have to turn to fintech or ISVs that can help them leverage the power of these APIs on an integrable platform.
Think Beyond APIs: Go Low-Code
In the end, APIs are a means to an end.
Businesses spend inordinate amounts of money and time to consume complex APIs and launch embedded finance services. Traditional hand-coding while integrating with APIs is cumbersome and can lead to latency in time-to-market. Subsequently, many businesses lose their first-mover's advantage.
Low-code platforms can help businesses in two ways to gain momentum:
Businesses can perform quick roll-outs of showcase applications and MVPs on a low-code platform, thereby gaining a sense of the market pulse and figuring out what works and what does not.
BaaS providers can use low-code to enable hyper-accelerated app development by provisioning ready-to-use contextual components over their APIs, which can be easily provided as a bundled financial offering for business apps.
A low-code platform can now act as an aggregator of financial and non-financial APIs and provide a contextual layer that is customized per brand/bank.
Battling out on fierce financial terrain, are large and small brands and FIs. Whether it is 'Buy' or 'Build', businesses, fintech, and ISVs agree that application development platforms need to offer two very important aspects while integrating APIs: flexibility and security.
Low-code platforms that come with inbuilt security and a "whatever-whenever-wherever" facilitation effectively neutralize these two major concerns faced by incumbents of the financial services industry.
To Embed or Not is Not a Question!
Over the past two years, industries have shown resilience and adaptability like never before. Embedding finance into a consumer app has become a norm. A norm that took wings years before but gained momentum in the past two years. The hyper-acceleration of embedded finance in financial and non-financial applications is the phenomenon of businesses reacting to unforeseen circumstances in the most creative manner. Low-code platforms like WaveMaker can assist small and large brands in consuming and integrating disparate APIs with ease and provide a contextual consumer interface abstraction over them.
The synergy created by low-code, embedded finance, rapid application tools, and digital transformation in general, are shaping the face of what creative adaptability looks like.
Forrester finds that, in 2020, over 27% of organizations improved their customer experience (CX) index scores, a big number compared to the few who were making progress in the years before.
"To emerge successfully from this global crisis, brands must build experiences that help them engage with their customers at an emotional level," wrote Forrester SVP, Sharyn Leaver.
So, how do enterprises engage customers at an emotional level when the predominant
channel of interaction is now digital?
By delivering insights-driven, personalized, contextual, end-to-end digital customer experiences anytime, anywhere, across channels and devices.
To achieve this, at accelerated time-to-value and scale, enterprises need a springboard: A Digital Experience Platform.
Gartner defines a Digital Experience Platform (DXP), as an integrated set of technologies, based on a common platform, that provides a broad range of audiences with consistent, secure, and personalized access to information and applications across many digital touchpoints.
At WaveMaker, we visualize it in three layers:
Foundational Business Engine
Digital Engagement Hub, which brings together APIs from the business engine
Customer Experience Suite, which is the UX layer, made up of apps
Most enterprises have the business engine and the digital engagement hub, even if some of them might be legacy software. However, the digital customer experience layer needs to respond to rapidly evolving needs, offering opportunities for experimentation and rapid implementation. It is here that low-code can help. Here's how.
Transforming applications to a customer-oriented approach
In most industries, IT is designed around the organizational structure, not customer needs. For instance, the technology architecture of a retail organization is driven by the supply chain — divided into inventory, point of sale, customer relationship management, e-commerce, etc. So, if a customer wants to check on the company's website whether a product is available in their nearby store, it would be next to impossible because the e-commerce engine doesn't speak to the inventory management system.
A digital experience platform can enable enterprises to address such use cases without elaborate investments in product development. When the business engine is built on customer-oriented architecture, deploying applications as microservices, loosely coupled, and API-driven with functional encapsulation, the low-code customer experience suite empowers you to drag and drop any combination of features and functionalities to create a new app. It effortlessly abstracts the various business engines to create apps with little manual programming.
Leveraging data for personalized digital experience
No customer wants to search and scroll endlessly on their shopping app to find the product they want. Nor do they want to manually drag and drop features into their interface to personalize it themselves. They want personalized experiences that are meaningful, engaging, and, most importantly, efficient.
A digital experience platform can leverage advanced analytics to deliver that. The low-code customer experience suite can form the abstraction over the analytics engine to bring together user, interaction, and business data to create a 360-degree view of the customer. It can enable dynamic user experiences, ensuring continuity of customer relationships, displaying cross-sell/up-sell opportunities contextually.
Delivering omnichannel engagement
In the era of 'hand-off' between devices, customers demand a smooth omnichannel experience from enterprises. For instance, an e-commerce customer today wants to add items to their cart from any device, anywhere, anytime, and purchase them all together when they're ready.
Digital experience platforms are built to enable this seamlessly. By integrating various digital business engines, the low-code customer experience suite allows you to build omnichannel customer journeys — effortlessly moving from one channel to another, ensuring continuity of engagement across devices.
Enabling dynamic content delivery
Traditional applications are optimized for short-term transactions, while digital experience platforms are built to create long-term customer value. For instance, an e-commerce application is typically built around capabilities like search and checkout, focussing on the efficiency of shopping. But customers today are seeking more engagement. Perhaps why social commerce — blending of social media like Instagram and shopping — is gaining popularity, as it stresses the 'experience' of shopping.
The digital customer experience suite enables enterprises, especially in industries like banking, media, retail, or fashion to design websites, portals, apps, etc. to deliver personalized, contextual, relevant, and timely content to improve stickiness and loyalty.
Ensuring end-to-end digital service
Today, saying "you need to come to the store to get this done" is a sure-shot way of losing a customer, especially given that the cost of switching to a new provider is the lowest it has ever been. However, traditional shelf-ware is heavily restrictive in the functionalities they can offer.
Digital experience platforms enable you to deliver end-to-end digital service. With the customer engagement suite, enterprises can:
Build and deploy new applications quickly for customers
Enable dashboards with predictive analytics for employees
Create chatbots to automate answers to common concerns
Automate data collection in the form of feedback through email, SMS, or app notifications
Streamline product and business innovation based on customer behavior and preferences
In 2018, PwC found 32% of customers say they would stop doing business with a brand after one bad experience, even if they had loved it before. On the other hand, customers are willing to pay a 7-16% price premium for a good experience. This becomes even more telling in the post-pandemic era.
Today, just offering a digital avenue isn't enough. The digital channel(s) is the storefront, relationship manager, customer service, marketing, sales, product catalog — all rolled into one. The true success of a digital channel is in dynamically adapting to customer needs. A digital experience platform helps you achieve that.
With a robust low-code customer experience suite built with WaveMaker, you can accelerate your digital experience platform journey significantly. Its ability to provide features such as a composable architecture, scalability, cloud-native capabilities, customizability, repeatability and security strengths enable your application teams to create differentiated experiences at a fraction of the time and cost.
To see how low-code can accelerate your digital platform journey, try a demo of WaveMaker today.
Authored by Gopi Mishra, Principal Architect - Development, WaveMaker, Inc
Enterprises are increasingly using 'Direct-to-Consumer' digital initiatives. They are parallelly digitizing their internal processes with increased velocity. These changes bring with them a tide of security threats. From insider threats to exposed marketplaces, there is always a security hazard lurking around the corner--one that can assume mammoth proportions if security doesn't become an ingrained part of application development. In fact, according to a report by cyber security firm 'Checkpoint', cyberattacks on organizations worldwide jumped by 29% during the first half of 2021 as compared to the same period in the previous year.
So if an enterprise is adopting the web, mobile, and cloud, and directly selling to the consumer, it would be paramount that the IT team prioritizes the security of its product, and most importantly ingrain the best practices of weaving security into the development process.
Who better to don the mantle of defense than the 'developer'? After all, when it comes to the security of an application, 'developers' are the first line of defense!
Defense-In-Depth
A 'Defense-In-Depth' approach to security for applications is a layered approach to security. What it essentially means, is that developers should take necessary action to mitigate security risks at every layer, be it the front-end (client), middle-tier, database services, or even the network layer. To do that, developers need to collaborate with various stakeholders: customers, DevOps teams, IT-networking, and the security teams handling the necessary infrastructure.
A developer has to have the same approach while developing secure applications using a low-code platform. WaveMaker comes fortified with SAST tested auto-generated code that is VeracodeTM verified. While developers working with WaveMaker can rest assured of the inherent security of the platform, there are a few best practices that a one can follow while using WaveMaker low-code to develop secure applications.
Embed security using WaveMaker
Developers need to think about security primarily in three areas: Data, Business Logic, and Coding. Data in itself could be static or could be in transmission. Depending on its state, the developer needs to keep an eye out for the following checkpoints:
Data at Rest:
Ensure that no personally identifiable information is stored at the client-side (in-cache of web application or in device storage of a mobile application)
For mobile applications, store relevant and critical information in secure elements
Avoid storing information such as service credentials and connection strings in an accessible file. If stored, ensure that there is a proper authentication and authorization mechanism in place to access these files
If possible, use rooted/jailbreaking detection for mobile apps.
Cordova provides plugins for the same. This can be added to the application by importing the plugin to the application. Plugins can be imported as described here.
Data in Motion:
Secure data in motion from being intercepted
Use HTTPS for all calls between the client and the server-side
Use TLSv1.2
Ensure that the data between client and server-side is encrypted
Use updated security certificates that have the latest and secure cipher algorithms
Ensure validity of certificates. In case, certificate pinning is used on mobile applications ensure that certificates are renewed before expiry and app uploaded to app/play store to avoid apps breaking in production
Protect API calls with authentication
Do not include PII data as a part of a GET call
Business Logic:
Use multi-factor authentication
Have a password policy and validation
Include input validation as a part of data length, type, and white-listed characters
Do not include passwords as a part of the 'Remember Me' functionality
Do not provide the reason for the failure of authentication in event of a validation failure
Coding Best practices :
Do not log sensitive information like passwords
Include all loggings as a part of the 'isDebugEnabled' flag so that they can be disabled in the production
If 'Request' and 'Response' are logged or can be logged in debug mode then create filters for sensitive data
Use the latest versions of third-party plugins that are imported into the application
Use the latest SDKs/APIs that are tested against vulnerabilities
Flush out session data during logout
Error stack trace should not have sensitive information. It is always advisable to add custom messages as error messages rather than simply passing or printing the error stack trace which may have application class/file names or sensitive data.
WaveMaker is VeracodeTM certified and the auto-generated code is protected against OWASP Top 10 security risks. However, while designing an application the developer should keep these risks in mind and design the application to safeguard it against them (For a greater list of guidelines, follow this OWASP cheat sheet]
When using WaveMaker low-code platform, ensure that VeracodeTM-like scans are performed for both JavaScript and Java code
Security is an inarguable conclusion
While security best practices can help developers immensely, what is more important, is that they develop a 'security mindset'. Security must be a priority and not an afterthought. While developing applications using 'Agile Practices', security should be a criterion in the 'Definition of Done' of user stories. Bigger pieces should be taken up as enabler stories. Regular penetration tests should be performed early in the development stage and should be a part of every sprint release. A security loophole caught early in the game will alleviate future pain points, bring down costs and reduce technical debt.
Being secure is not an option, it is an inarguable conclusion. Developers with a finer sense of security will hold this as their mantra.
Author's Bio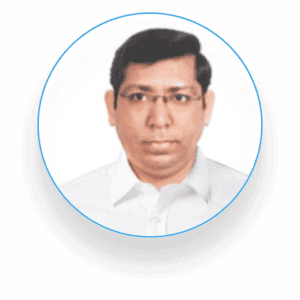 Gopi is a software architect with over 15 years of experience in the financial tech and IT domain including 9 years he spent on mastering mobile architecture design. He presently leads a team of low-code developers and mentors them about best practices in software development. In his free time, he loves to read non-fiction, watch history channels or binge-watch movies.
Write to Gopi Mishra at info@wavemaker.com
Authored by Akhil Pillai, Principal Engineer, WaveMaker, Inc
The web has been a unique platform to develop applications for decades. Of late, platform-specific applications have created a lot of buzz, mainly owing to their reliability and extensive features. Some of them work offline, some have hardware capabilities while some of them can notify users of important updates. PWAs or Progressive Web Applications are the web's newest attempt at matching the level of reliability and richness that these native applications offer.
What exactly are Progressive Web Applications?
Progressive Web Apps are just plain old web applications with newer capabilities enabled on modern browsers using progressive enhancement. That is, even if the modern features are not supported by the browser, the user still gets the core experience of a web app. PWAs make use of web-platform features like service workers and manifests to give users an experience on par with native apps.
Some of the features that PWAs offer are:
Installable
PWAs allow users to install them through prompts that are either on the browser or implemented by the developer. Once installed, they mimic native apps that are available on home screens, docks, or taskbars. The application opens up as a different window rather than as a tab in a browser and is shown as part of the app switcher, thus tightly integrating it with the platform.
Reliable
Speed is crucial to keep the user interested and reduce bounce rates. Google's research shows that an increase in page load times from 1 to 10 seconds leads to a 123% increase in bounce rates. The capability of PWAs to cache resources and load them from the cache greatly increases speed and performance. This not only helps with load times but also helps when the network is slow or there is no network at all. This means even when offline you have access to your favorite application unless network connections are indispensable.
Linkable
Being a web application, PWAs can be easily shared using URLs. Anybody with a URL can install a PWA on any platform with a supported browser. This greatly reduces the effort it takes to distribute an app through an app store. Managing versions are made easy too with auto-updates or prompted updates that allow partial updates. With this feature, gone are the days when we had to download entire applications for just a small change in text.
Enables Notifications
One of the biggest flexes that native applications had over web applications is the ability to push updates to the user. Though web applications could show notifications, they needed to be running in a window to do so. PWAs have overcome this hurdle through service workers. A service worker is a piece of code that runs in the background even after the web application is closed by the user. This allows the web application to run background tasks and receive notifications. This makes it easy to keep the user engaged even when the application is not running.
Secure
PWAs are inherently secure. The service worker, which is the core part of a PWA, is only activated if the connection is secure. If the connection is not established over a secure HTTPS protocol, PWAs behave just like normal web applications.
Though these are some of the main features that PWAs offer, there is much more to them like background sync and hardware communication among others.
How can PWAs impact business?
Most of the features directly or indirectly affect the way users interact with web applications. This in turn drives business decisions. For example, giving a native feel to a web application is made easier with PWA. This allows businesses to ship applications faster while skipping app stores and their complex policies. PWAs while reducing development effort also reduce the associated development cost. Faster loading times give a big boost to customer retention while notification capabilities keep the user engaged.
In terms of data supporting these tall claims, let's take the case of Twitter. Twitter saw a 65% increase in pages per session, 75% more Tweets, and a 20% decrease in bounce rate. Nikkei saw 2.3 times more organic traffic, 58% more subscriptions, and 49% more daily active users. Hulu replaced their platform-specific desktop experience with a Progressive Web App and saw a 27% increase in return visits. As they say, numbers don't lie. PWAs are definitely influencing customer interaction with applications.
How can WaveMaker help?
PWAs combine the native feel of platform-specific applications with the dynamic nature of web applications. But how do we implement all these features? Using vanilla JavaScript and HTML to implement such rich features would take a lot of time and effort. Of course, libraries like Angular and Workbox can help but WaveMaker goes a step further. With the latest 10.9 release, PWA is officially in its beta stage on WaveMaker. All the user has to do is enable an 'app.pwa.enabled' flag in the profile they use for production. Detailed instructions can be found here.
WaveMaker uses Angular's built-in support for PWA and throws in a bit of its own magic to enable these features. As soon as the flag is enabled, two of the most prominent features are baked right into the WaveMaker web applications - installability and caching. Notifications are also enabled by default that can be made to work with a few app-specific changes. WaveMaker also allows the user to choose a custom icon for the installable app. What better than having your brand image in your user's app drawer!
At WaveMaker we realize that continuous improvement and innovation is the path to creating customer satisfaction. As of now, PWA features that are in the beta stage are subject to continuous improvement. The way forward is to enhance features like notifications and to gradually add features dictated by customer interests.
PWAs are here to stay and WaveMaker will help your business embrace the technology with as little code as possible.
Watch this video to know more.
Author's Bio

Akhil Pillai is a full-stack developer with more than 10 years of experience in software development. He is a technology enthusiast and a polyglot with a soft spot for machine learning. In his free time, he loves to read technical content and listen to music.
Mankind and the systems that it relies on are in a constant state of flux. From the transportation systems we travel in, to the medicines we take, evolution has been a constant phenomenon in human life. If that were not so, we would still be stuck in stone-age. Development tools are no different. From low-level languages like COBOL to high-level languages like Java and Python, coding has evolved to make application development easy. Similarly, IDEs are constantly evolving to make the developer's life easy. From text editors to GUI-based IDEs to IDEs that even autocomplete your code, development environments have come a long way. Low-code is the next eventual milestone.
Hi! I am Sagar Vemala, from Hyderabad, India and I work for WaveMaker, Inc. After completing my engineering course, I joined WaveMaker as an intern where I was introduced to low-code development and I found the concept of converting ideas into products rapidly; absolutely fascinating! I had an offer in hand to join a reputed technology company as a developer even before I was offered an internship at WaveMaker, but I must say that the internship introduced me to a whole new world of application development and I decided to stay. When I started as a full-time developer at WaveMaker, I was warned by my peers about being labeled as a 'low-code developer' but my gut instincts told me that I was making the right decision. Looking back, am glad I stuck to my decision. A low-code developer's job is not restricted to simple coding, it is an expansive sea of learning, of thinking outside the box and more importantly, it is a job that solves a problem.
In this context, I would like to share my experiences from my journey, clear some misconceptions and present my point of view about my career as a low-code developer. Here are a few pertinent questions that I get asked about low-code:
If it is just drag and drop, then what is there for a developer to do?
I learned Java on notepad++. While it is the best way to learn Java, it is not necessarily the best way to develop faster. Seeing me code on a text editor, my friend introduced my novice self to the Eclipse IDE and it is there that I was introduced to the world of GUI IDEs with cool features like generating import statements, getters, and setters methods automatically.
My 'world of coding' just became so much more flexible.
The first time I saw how WaveMaker worked, it was déjà vu--Once again a complicated process had been made so much easier. My life as a developer is made 'easier' by WaveMaker. Here is how:
WaveMaker has a real code-behind approach and allows full customization and extension on every level. I consider WaveMaker as an advanced IDE (RAD) which generates open standards-based code following best architectural practices. It offloads monotonous tasks like setting up the project and environment, managing framework, and library upgrades and allows me to focus on the problem at hand. Also, it helps developers by providing configurational code for standard features like multi-language support, security, and scalability. With all that being taken care of by WaveMaker, I can focus on areas where my knowledge and experience are needed, like solving requirements and writing business and integration logic.
By being a low-code developer, am I restricting my learning and knowledge?
Absolutely not! I see myself as a problem solver and not just as a developer. I get to work on so many layers of technologies, right from designing the DB schema to preparing the backend to composing the UI and deploying the app.
In a traditional setup, this would require a large team of dedicated backend and front-end developers working for months to build an app. In today's world, there is an imminent danger of irrelevance by the time an app is developed. With WaveMaker, a small team does the job in weeks that would traditionally take months and as a plus, I get to dip my toes in every kind of technology.
As development became more agile and the time frame became shorter, I got to work on many applications across different domains. At times, I would digest requirements directly from the client. With total control over development at all layers, I was able to provide accurate estimates. After observing diverse apps getting built, I started to think about another important aspect of development--user experience. This skill that I picked up while using low-code helped me deliver applications even without the help of a business analyst or a user interaction designer. My learning outside just coding, sky-rocketed.
I also got the opportunity to work with DBAs, senior developers, technical team leads, and architects of various enterprises as a WaveMaker SME. All apprehensions about not being 'technical enough' disappeared after my conversations with them and I believe that I was able to add value to decisions that are agnostic of WaveMaker.
In a nutshell, the horizon of my learning expanded.
If the platform generates most of the code, won't that make developer's learning gloomy and less interesting?
Circling back to the point of learning, let's elucidate with an example. Let's say, a 'traditional' JavaScript developer has just started learning Angular. If the said person follows the documentation of a 'to-do' app and merely replicates the steps without understanding the intricacies of how Angular is helping, will the person be able to actually 'learn' and contribute to projects? No, right? The same logic applies here as well. There is learning in any sphere of creation. Developers who aspire to work with WaveMaker low-code need to use or will learn the below-mentioned skills to understand WaveMaker generated code and make the best use of it.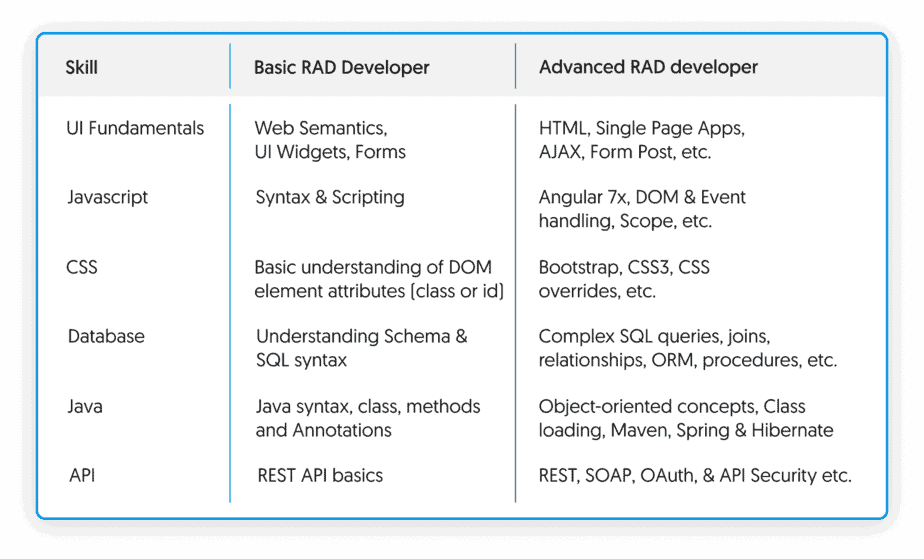 As a low-code developer, am I stuck? What is the future of a low-code developer?
I strongly believe that low-code may not be a hammer for every nail but is a necessary tool in the developer kit. Enterprises have and will adopt this methodology into their practices for years to come. Digital transformation has become ubiquitous with every enterprise and if an enterprise is looking at ways to create safe, scalable, and modern products with faster go-to-market, low-code is a safe bet. According to Gartner, the low-code development market is predicted to reach a worldwide total of $13.8 billion in 2021. In fact, the demand for low-code developers has been rising exponentially.
After having worked for WaveMaker for more than 5 years, I find myself with an abundance of choice and skills. I have the skills and knowledge to go the full-stack way, I can lead teams of low-code developers, I can be a solution architect, or I can choose to use low-code for hybrid development. There is a myriad of opportunities and options available. You only have to choose.
Finally, I think I chose the road less taken, even though opinions around me were not as positive about low-code, as they are today, I feel I made an interesting choice that fueled a unique career for me, and that has made all the difference.
Author's Bio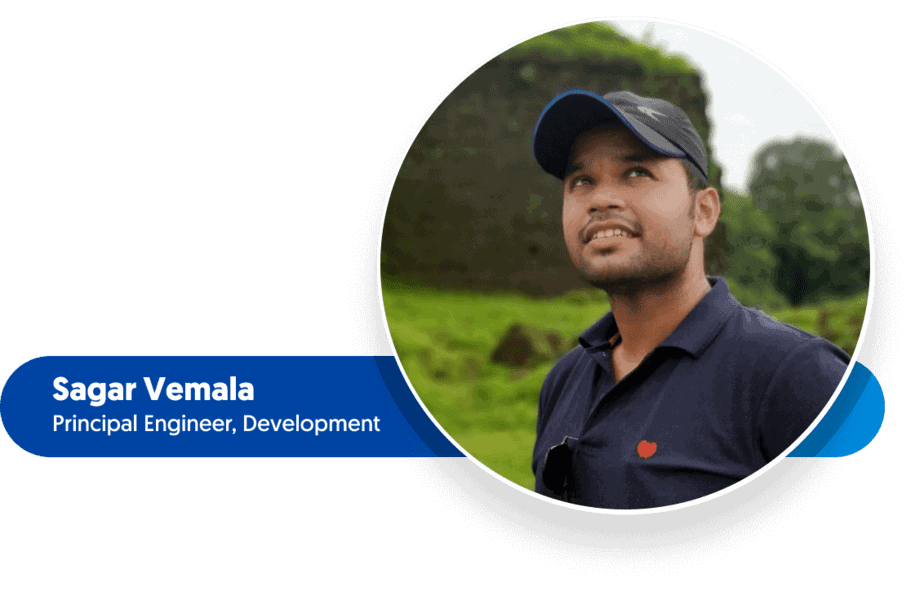 Sagar Vemala has been with WaveMaker since 2015 and has implemented several customer projects as part of the professional services team. He has built a variety of API-driven applications in workforce planning, inventory management, finance and insurance. If you are developing an application and plan to use low-code, Sagar can share best practices using WaveMaker. Write to him at info@wavemaker.com